Master Plan
Current Challenge: Unify the park's experience and geography.
Unified Experience

Develop a language of light

Each division of the park will have its own color:

Jamaica Bay: Red

Fort Bennett Field: Burgundy

Repeating the use of light to highlight assets of the park will unite the visitors' experience of the park as a whole.

Unified Geography

Create four marinas to provide visitors with the ability to use alternative transportation:

Public Transportation

Boats to ferry people from marina to 100marina on the hours

Private Transportation: Rent

New methods of transportation allow people to traverse the entire park.

New marine transportation will not only link the park, but it pays homage to the maritime history of the region.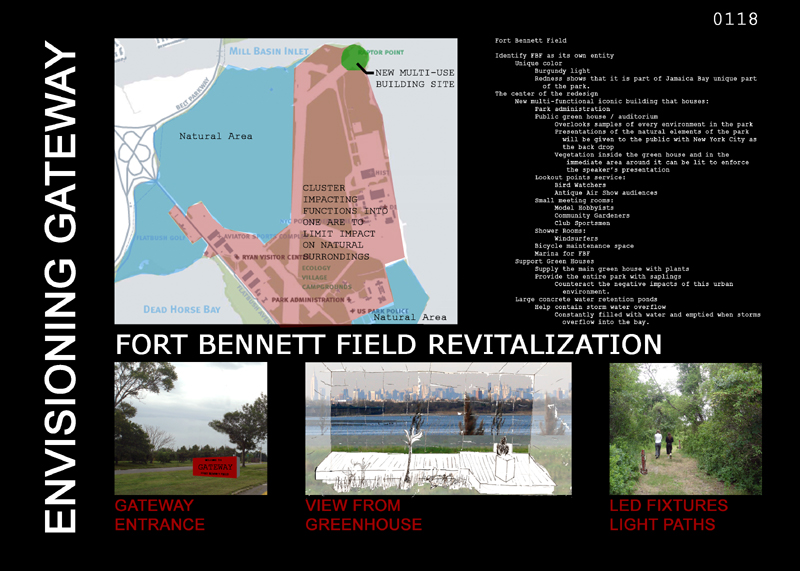 Fort Bennett Field
Identify FBF as its own entity

Unique color

Redness shows that it is part of Jamaica Bay unique part of the park.

The center of the redesign

New multi-functional iconic building that houses:

Public green house / auditorium

Overlooks samples of every environment in the park

Presentations of the natural elements of the park will be given to the public with New York City as the back drop

Vegetation inside the green house and in the immediate area around it can be lit to enforce the speaker's presentation

Lookout points service:

Antique Air Show audiences

Bicycle maintenance space

Support Green Houses

Supply the main green house with plants

Provide the entire park with saplings

Counteract the negative impacts of this urban environment.

Large concrete water retention ponds

Help contain storm water overflow

Constantly filled with water and emptied when storms overflow into the bay.

Plants attached to a lattice will help filter the water before it is released into the bay.